Your new meter
With remote management functionality
The new electric meter is more flexible, comfortable and efficient. Find out what the Remote Management technology can offer
The new smart meter allows you to fully control your consumption of energy. Thanks to the new remote management technology, available since 2010, the new generation of electricity meters represents a milestone in the culture of saving and energy efficiency.

The new electric meter is:
Smarter: Because it provides the reading of your consumption.
More comfortable: Because it can resolve incidents or perform operations remotely.
More efficient: Because it provides more information to monitor your consumption better.
What is the purpose of Remote Management?
The installation of new meters with remote management functions is regulated by Royal Decree 1110/2007, Order ITC 3860/2007 and IET 290/2012 which established the need to replace the mechanical electricity meters with a capacity equal to or less than 15 kW for new meters with remote management functions by 2018.
e-distribución is an expert in remote management and has the largest number of smart meters installed in Spain. With more than 12,4 million at the end of 2020, we have already replaced 99% of all electric meters installed.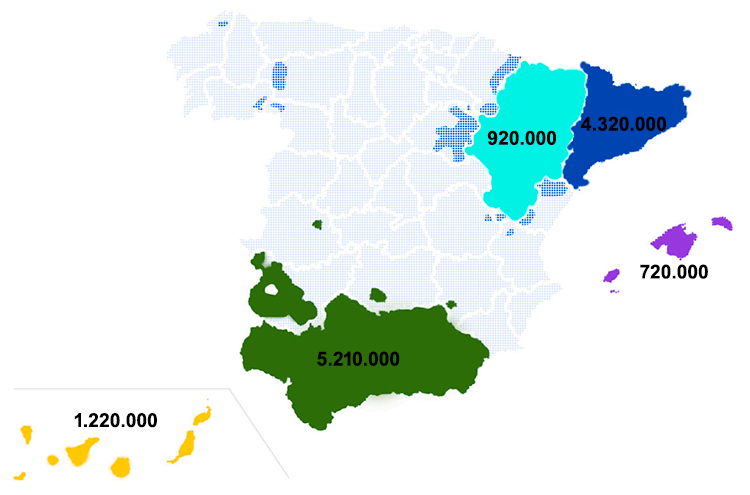 Number of meters installed in the autonomous communities where e-distribution is present: almost 4.9 million in Andalusia, 920,000 in Aragon, 720,000 in the Balearic Islands, 1.22 million in the Canary Islands, 4.32 million in Catalonia, 320,000 in Extremadura, i.e. a total of 12.39 million smart meters.

Smarter and more efficient

If you already have a smart meter, you can access your hour curve and check your usage. Register here
A safe technology

Remote Management is not only an innovative technology, but also a safe one. Many different studies have demonstrated that smart meters are harmless to people and they have been certified according to the corresponding regulations.
Smart grids

The so-called smart distribution grids open up an endless number of possibilities in relation to energy saving, increasing flexibility or reducing costs.